- 5 generations of cheese masters -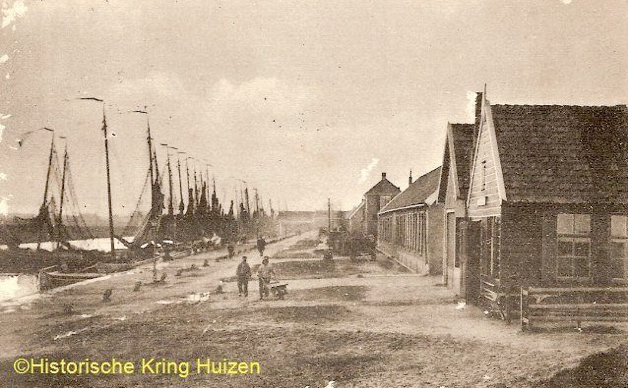 1876 – 1st generation Hendrik Visser
It all starts in 1876 when Hendrik Visser was  born in the small farmers village Huizen, in the Northern part of the Netherlands , at the shores of the Zuiderzee. This poor village turns into a profitable fisherman's town after the realization of a harbour at the Zuiderzee. The fishing business is booming.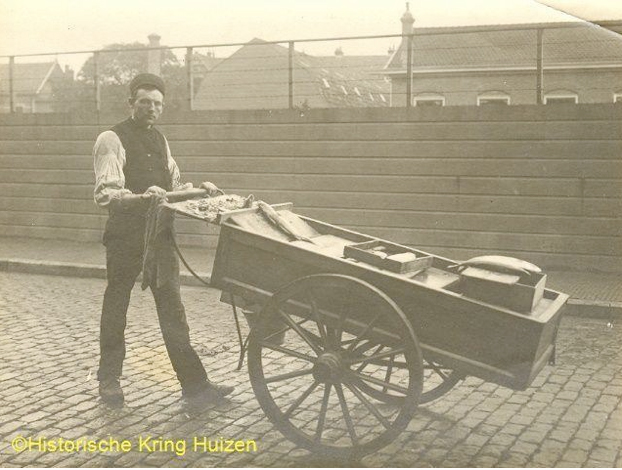 1896 – Fish vendor
When Hendrik turns 20, he starts as a fish vendor, like many villagers do. As a vendor he goes door to door with a fish cart in order to sell his fishes.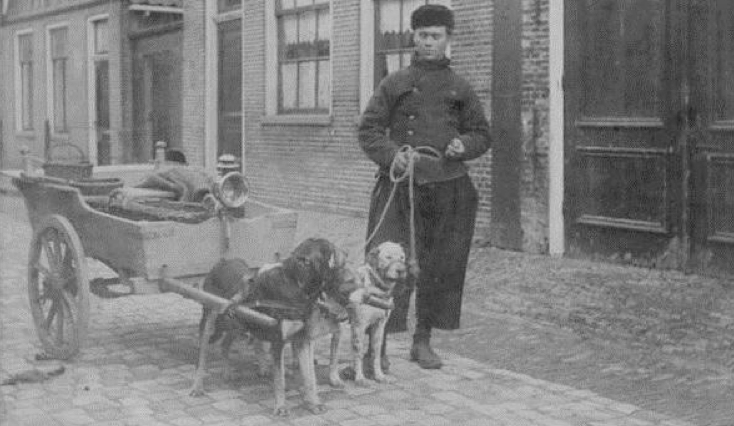 1903 – Fish & Cheese
The fishery circumstances deteriorate; the catches of fish are getting smaller, the wages decrease and the sea more dangerous due to the changing weather. Plans are being made to close the Zuiderzee by building a dam (the Afsluitdijk), which would turn the former inland sea into a big lake, meaning fishing would get more difficult. Hendrik therefore decides to diversify his assortment and starts selling cheese as well.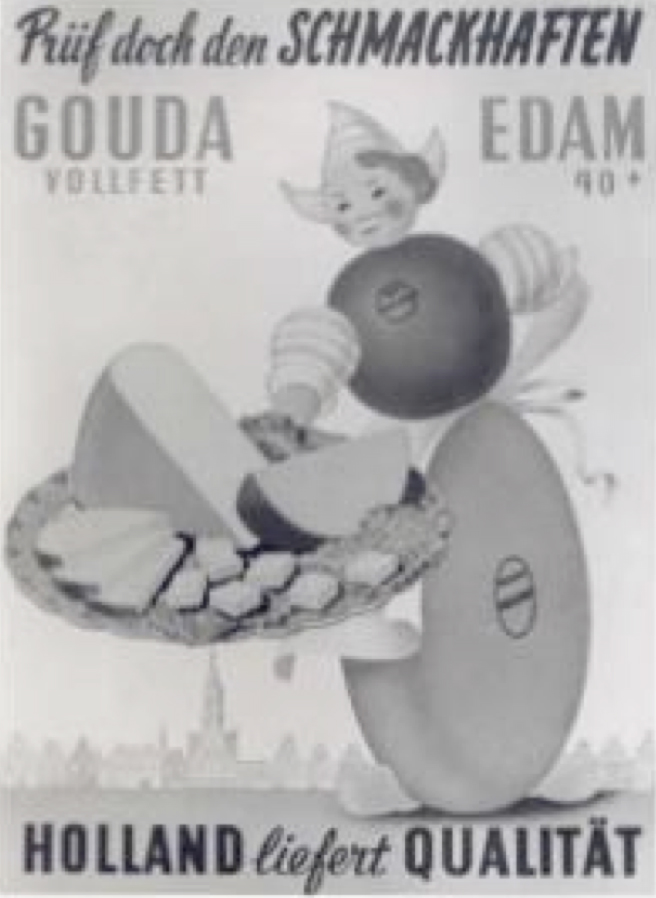 Ca. 1910 – EchterKäseaus Holland
Hendrik starts selling cheese in Germany, due to poverty in Holland. He becomes a so called 'Duitsekruier'; a term used for salesman who turn to Germany for more revenues.  Germans love the real cheese from Holland; 'Echter Käse aus Holland'. When Henrdrik runs out of stock, he gets new supply from Holland by train.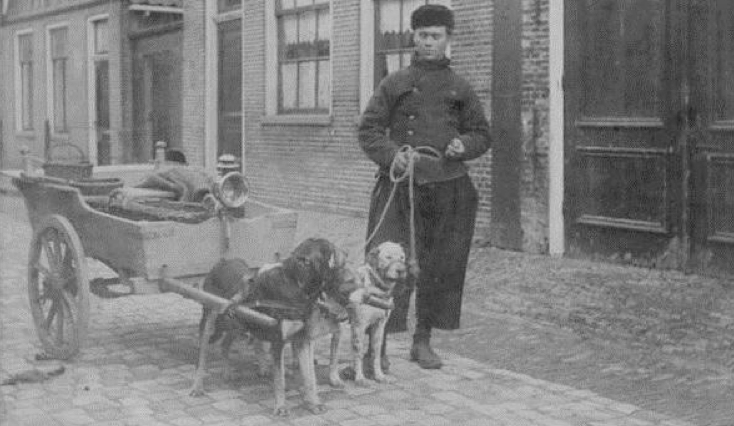 1914/1918 – Disaster
In 1914 World War 1 begins. Hendriks business in Germany can continue when he gets granted a German license. For this, he needs a proof that his company is based in the neutral Holland. In addition, a major flood hits the Zuiderzee area; there are more than 50 causalities.
This speeds up the discussions of closing the Zuiderzee. It may be the end of fishing for Hendrik. This is the reason why Hendrik decides to completely focus on cheese.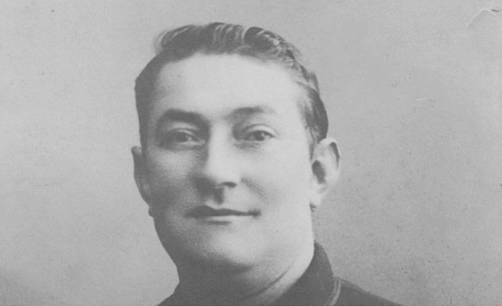 1916 – Official founding year of Visser Kaas
In 1916 Hendrik officially registers his company with the Chamber of Commerce. He gets the German license in return and may continue his business there. Visser Kaas is born.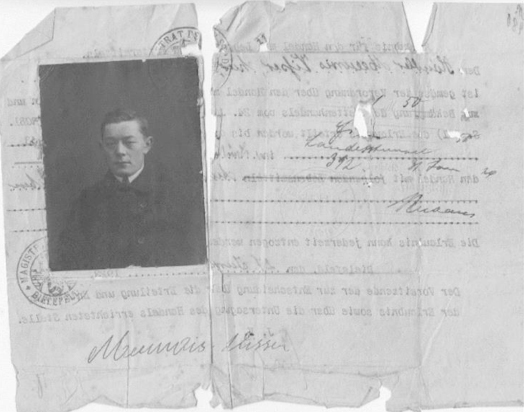 1897 – second generation Meeuwis Visser
In 1897 the son of Hendrik is born in Huizen; Meeuwis Visser. Custom during that time, Meeuwis helps his father in the cheese business. He gets a grip on selling at a young age. Meeuwisvent permit was recently found in the attic of an aunt.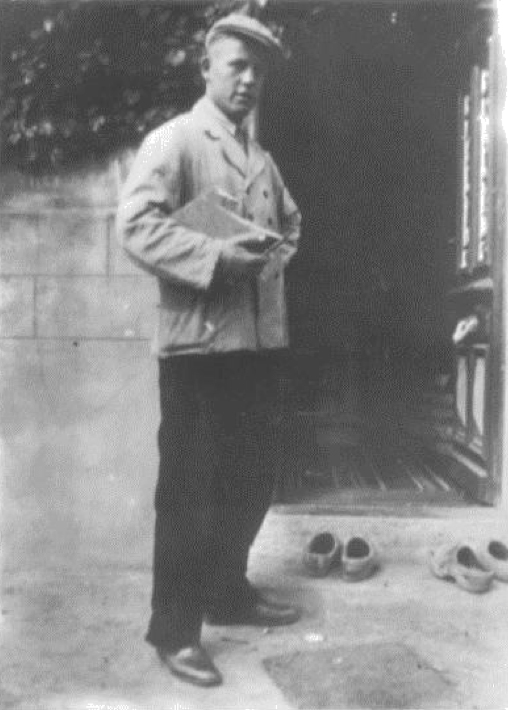 1921 – 3th generation Jan Visser
Together with his wife Aaltje, Meeuwis had a son in 1921, named Jan. Unfortunately, Aaltje became seriously ill and the family was forced to return to Huizen (from Germany), where Aaltje died at a young age. Meeuwis remarried. She also had a son with the name Jan. Together they have six more children.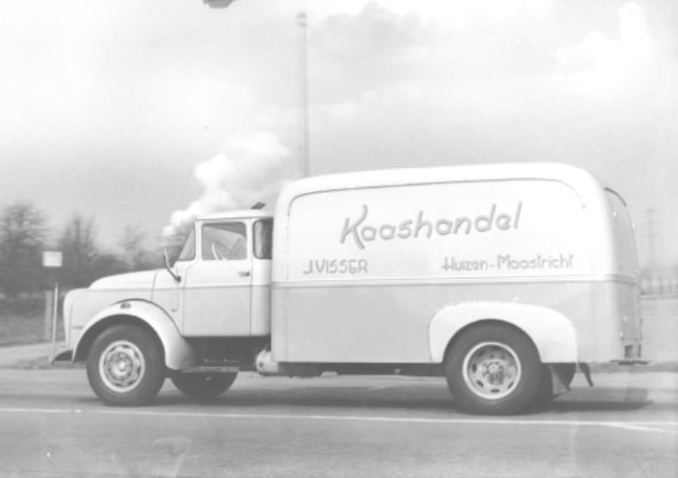 1935 – "Daerleiteentorentjen"; get business there
Son Jan grows up in cheese and hears the legendary words from his father; "Daer leit een torentjen"; try to get business over there.
Later, World War II broke out, with Holland taking an active part. With the result that business in Germany ended. After setting up a large customer base in Limburg, the selling  is continued from a small warehouse at the Middenweg in Huizen. Business grows larger and gets the properties of wholesale business. Buying a truck saves the two a lot of travel time, so that more can be sold.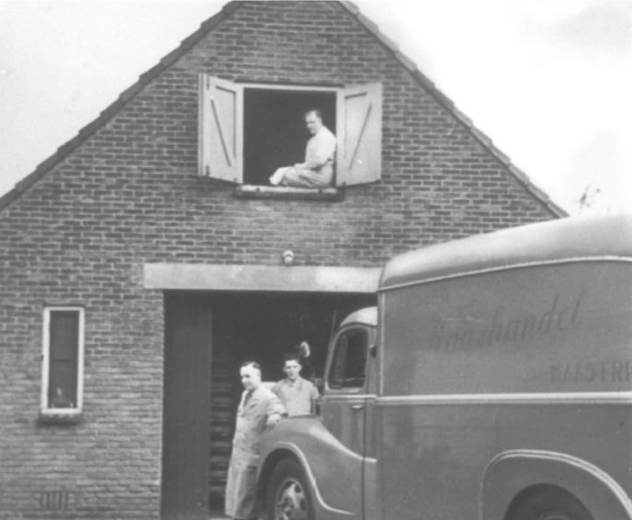 1950 – Jan, Jan and Cor
After the death of his father and business partner, Jan luckily gets help from his brothers Cor and Jan in the 1950s. The old warehouse of father Meeuwis on the Middenweg is being expanded; the storage capacity is quadrupled. Jan starts to sell more in Limburg and a second warehouse near Maastricht is required..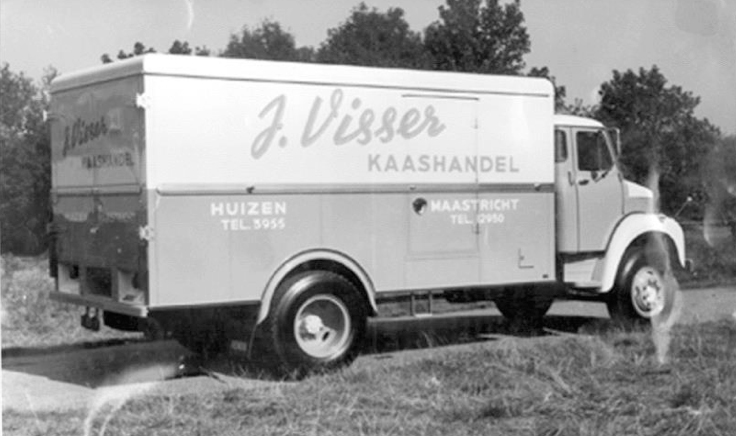 1956 – 4th generation Mees Visser & Ad van Mill
Jan's son is born in 1956; Mees Visser. He too is involved in the business from a young age. The business grows rapidly, so Mees starts working with his cousin Mees. Sales grows and also sales in Germany are recovered. Around 1980 the warehouse becomes too small again. In good weather condition cheese is even put outside to save space! The transition from small, single man business to wholesale is really made.
In the late 1960s, son-in-law Ad van Mill is also active in the company. He drives the truck and after finishing his studies he leaves the company, to return again in 1987. From then onwards, Mees and Ad are at the helm together.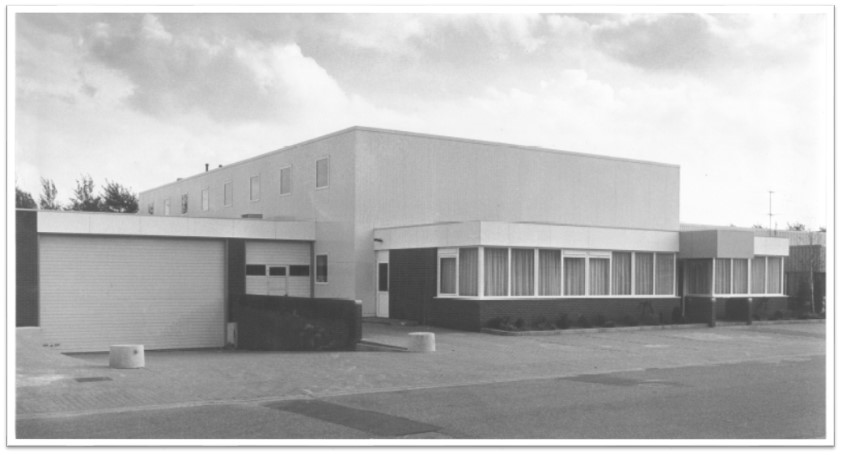 1987 – 1st Cheese robot in the Netherlands
The business is growing and there is an urgent need for extra ripening and storage space. In 1987 a new warehouse is built on the Nijverheidsweg in Huizen. The company is undergoing significant development. In 1994, the new warehouse is partly demolished again to make way for a modern box warehouse with a robot for cheese treatment. It would be the first "cheese robot" in the Netherlands.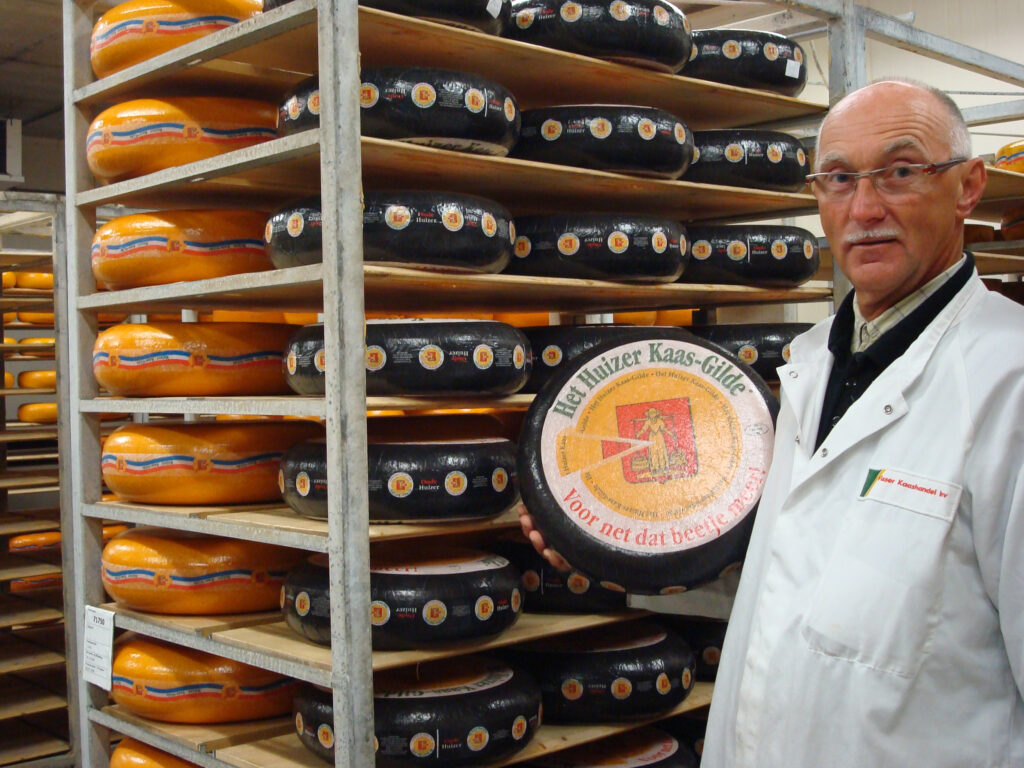 1997 – Huizer Kaas-Gilde
The Huizer Kaas-Gilde, a collaboration of about 15 cheese vendors, shopkeepers and market vendors, is established as a sales organization to join forces against the supermarket trend. The Huizer Kaas-Gilde is also Visser Kaas' premium brand for high-quality Dutch cheese, traditionally aged for an excellent taste. The brand is sold both at home as well as abroad.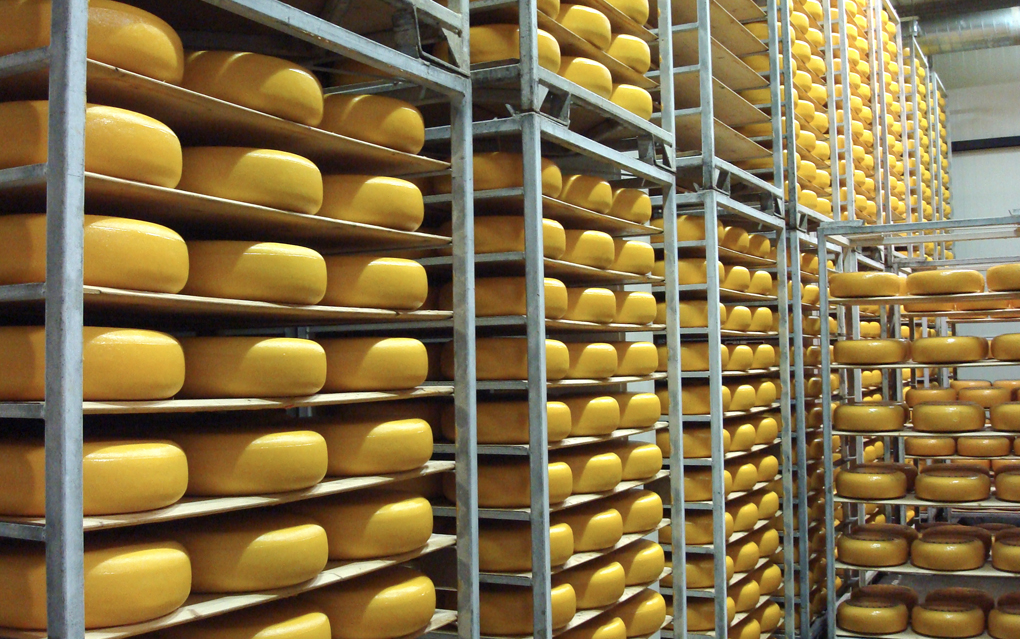 2008 till 2017 – 5th generation Jasper from Mill & Robert-Jan Visser
Jasper van Mill, son of Ad van Mill, is born in 1974. He too is active in the company from a young age onwards. He is sent to Germany to win new sales with the famous saying of previous generations: "Daer leit een torentjen…"
Next to this, exports are developing inside and outside Europe. Substantial investments are made to meet all food safety and export requirements.
Robert-Jan Visser, son of Mees Visser, is born in Huizen in 1985 and grows up in the company from an early age onwards. He succeeds his father in 2017 and together with Jasper he expands markets outside of Europe. Our cheese goes all around the world now.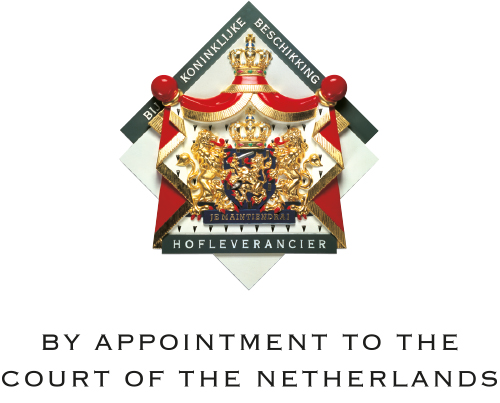 Present – Over 100 years of Visser Kaas
After more than 100 years, our great cheese company became a significant player on the worldwide cheese market. In 2016 Visser Kaas was awarded with the Royal Warrant, an official confirmation of our outstanding reputation by his majesty the King.
In 2018 the warehouse construction of a new warehouse were started and finalized in 2019. Capacity almost doubles. Would Hendrik Visser have ever thought his business would turn so successful….