- Reliable, versatile and flexible -
An authentic family business situated in Holland, near Amsterdam. Where the best selection of natural cheese is traditionally ripened. Officially established in 1916 by Hendrik Visser, first generation of the family business. Now, over 100 years later, we have grown into an internationally operating wholesale business, specialized in the ripening, packing and sales of the best quality cheese from Holland. Customers enjoy our cheese in more than 60 countries worldwide. We offer the full range of Dutch cheese, like Gouda, Edam and Maasdam, as well as Emmental blocks and UK Cheddar. The passion for cheese ripening has been passed on from generation to generation. Our cheese is therefore ripened on a traditional method; on real wooden boards under the right temperature and moisture conditions, so that cheese can develop this perfect, original taste. Each cheese is different. A lot of cheese, a lot of variety: for each cheese lover the right cheese. After reaching the right age and taste, we finish the production by labelling and packing the cheese, all tailor made based on customer's needs. 
All our operations are done out of our privately owned warehouse, with a capacity of around 4000 tons of cheese. We are able to send approximately 15 million kilos of cheese to customers around the world each year through our efficient transport network and export expertise. Our clientele varies from small cheese shops to large retail organizations, for which we offer a versatile range. By keeping the entire production chain of ripening, packaging and delivery in-house, we can work quickly, flexibly and cost-efficiently. We customize our products based on the wishes of the customer, with a good price-quality ratio. Thanks to our certified production and packaging technologies, customers are assured of a high and consistent quality of all our products. By means of personal contact, we try to react quickly to new opportunities and developments in the market. Overall, we are highly appreciated for our versatile range of cheese, our reliable quality and our flexibility in delivering. All with a personal touch. A reputation that has been confirmed upon receiving the Royal in 2016; something to be very proud of. 
We want to create as much value as possible for you and we do so through the following three core values:
Reliability of our quality and delivery
Versatility of our product range
Flexibility in labelling, branding and (mixed) volume
We supply the full range of Dutch cheese, in various packing options as well. We are therefore able to serve the following market segments:
Retail – for stores with a fresh counter or the ready-to go shelf
Foodservice & Horeca – something interesting for every chef; during breakfast, lunch or dinner
Industry – large / bulk packaging for processing purposes
We offer high and flexible service to all our customers. Big and small. We prepare and deliver your order from start to finish based on your specific situation and wishes. We offer the following supporting services: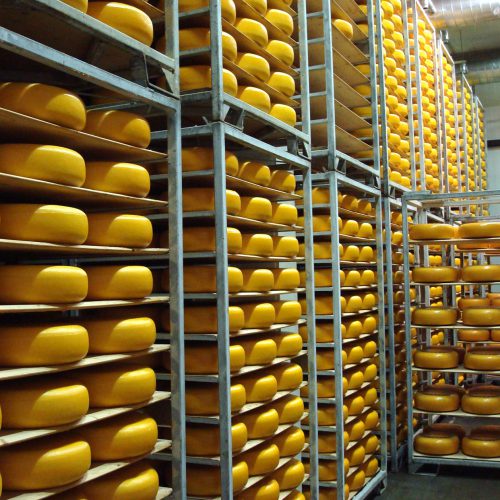 Ripening – authentic Dutch quality
Our Gouda cheese undergoes a natural aging process. The cheese ripens on real wooden boards in cheese racks and are regularly "turned" and tested for taste with the use of a 'kaasboor' (cheese drill). Cheese is aged under ideal conditions and we give the cheese time to develop; this is a profession in its own right and build on many years of experience. Cheese in our warehouse have all kinds of ages; varying from 4 weeks 'young' to 3 years 'old'. This results in different tastes and textures; from soft and creamy, to piquant and crumbled cheese with visible salt crystals. From the outside you can see or estimate the age of a cheese as well by looking at the colour and height change while aging. Each cheese is unique, with a unique taste. A great experience.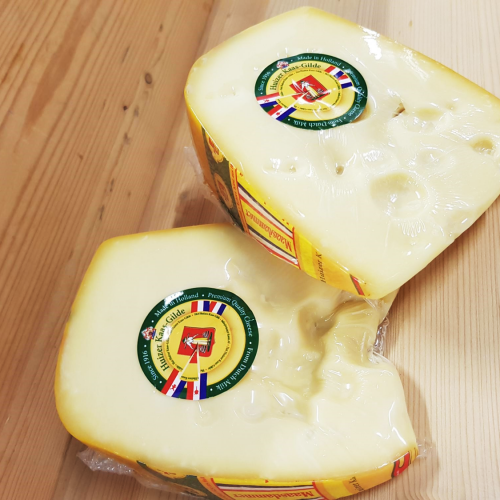 Packing and Cutting – full possibilities
We package our cheese entirely according to the customer's wishes. This includes the type of packaging, the design of the brand and weighing label, number of pieces per carton, and more. The weighing label is designed in such a way that it meets the requirements of the customer and binding rules of country of export. The brand is applied by means of thin labels and can be emphasized by brand stickers or repack labels. Our cheese is prepared for transport in appropriate boxes and pallets.
We also have the right facilities to cut and pack cheese into a large variety of smaller portions. Options varies from half and quarter pieces to smaller retail packages of approximately 250 grams. In various forms, such as wedges or Swedish cut. We use a modern packaging line and are able to offer high quality packaged cheese with long shelf life. The packaging department is of course fully certified to guarantee excellent hygiene and quality.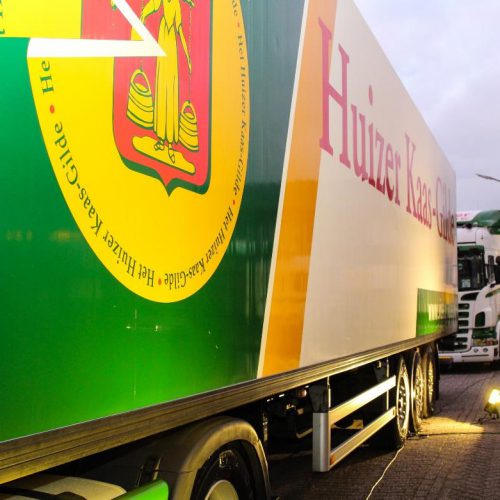 Export and Transport–reliable delivery
Our sales department is always there to discuss current orders or opportunities. We believe in a personal business relation and give pro-active advice regarding orders and delivery. We are fully up-to-date with respect to export documentation and country (import) requirements. We have extensive expertise in the preparation of all required export documents and are happy to offer this as a service to support our customers.
We have an efficient transport network using our own trucks or strategic partners for further destinations. This way you can benefit from competitive transport rates for air, road and/or sea transport. We are happy to help you.

By Appointment to the Court of The Netherlands
In 2016 we celebrated our 100th anniversary. We celebrated with our customers, suppliers, friends and family. It became extra festive because we were granted the Royal Warrant 'By Appointment to the Court of The Netherlands'. We are very proud of the fact that our excellent reputation has been officially recognized as well.
His Majesty the King can assign this title to small and medium-sized Dutch companies that occupy a prominent place in the region and industry. Companies must be at least a hundred years old and the entrepreneur(s) of undisputed behaviour. At the moment, around 500 companies are allowed to call themselves Royal suppliers. Of which we are 1.